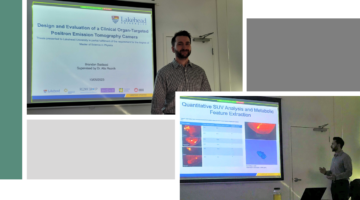 Date: May 10, 2023
Congratulations to Brandon Baldassi who successfully defended his MSc Thesis in Physics!
Brandon presented his work on the design and evaluation of a clinical organ-targeted Positron Emission Tomography Camera, which has been commercialized by Radialis Inc. Results from Brandon's thesis work have been published in two publications and presented on the 2022 IEEE MIC conference in Milan.
Good luck Brandon and we wish you success in your future endeavours!
[1] Evaluation of a High-Sensitivity Organ-Targeted PET Camera